Infrastructure
SMART CLASSES
The Town School aims to make our students smart in learning with the help of
Digital Classes
. We have introduced Educational Technology in the form of smart classes. It facilitates to:-
make complicated or difficult chapter / concept easy.
make teaching, learning more enjoyable
make teachers more effective and productive
three dimensional images provide a better understanding of the concept
various activities and mind maps are helpful for recapitulation
COMPUTER LAB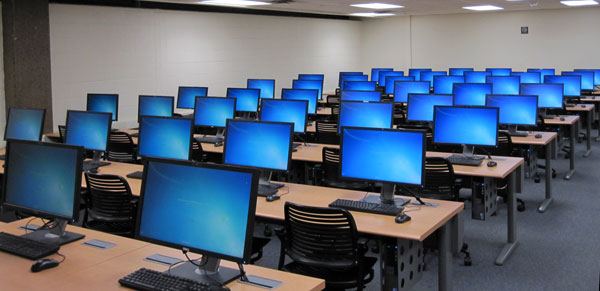 THE SCHOOL has full-fledged computer laboratory, which is having latest technology machines with the latest software and projector. An independent computer is made available to each student to build confidence and familiarity in the use of technology.
LANGUAGE LAB
The Town School also has a facility of modern language lab with the purpose to involve our students actively participate in language learning exercise and get more practise than otherwise possible in a traditional classroom environment. Our lab has following facilities:-
We endeavour to teach language through an inductive approach.
The visuals, images, audio, text all serve to make language user friendly and easy to grasp for our pupils.
Teachers have additional aids to make language teaching flexible.
Language lab goes a long way in simulating learning capabilities in both mentors as well as pupils.
LIBRARY

A State Of The Art Library stacked with periodicals, newspapers, magazines, novels and books (on multiple subjects) selected for our pupils` informative and educational value catering to all age groups. Apart from this, a good collection of maps, charts, news paper stand, display board etc as teaching aids are provided in the library.
TRANSPORT FACILITY
The School has around fleet of 40 buses that provide quality and safe transport . We have well trained drivers and conductors for safety and security of the child. We have appointed a Transport Incharge for the same to look into any matters regarding transportation so that any inconvenience to our pupils is avoided.
CARE ROOM (Medical room)
The School has a First-Aid Center which is adequately equipped with one fulltime trained nurse attendant and helpers.
SPORTS FACILITY
A huge play field is provided to justify the sports capability and talent of our pupils. Emphasis is laid on the value of exercise as a means of enjoyment and a healthy way of life. Students are trained in various games like cricket, football, volleyball, basketball, badminton, kabaddi, table tennis, athletics. A remarkable swimming pool is being visualized to train our pupils to become future swimmers.